ScoreData Corporation joins the Hewlett Packard Enterprise Big Data Platform Technology Alliance Program

ScoreFast™ to power new generation of collaborative Predictive Analytics Applications
For Immediate Release
Palo Alto, CA- August 28, 2016 – ScoreData today announced that it has been selected to the Hewlett Packard Enterprise (HPE) Big Data Technology Alliance Program, a powerful ecosystem of players that add value to the HPE Big Data Platform. ScoreFast is now available via the HPE Big Data Marketplace.
The ScoreFast and Vertica combination allows customers to:
Extract data from Vertica, and build Predictive Models on ScoreFast™ with one-click automatic deployment to the ScoreData cloud or the customer's private cloud
Achieve widespread adoption of predictive modeling in the enterprise: giving business managers the flexibility to combine data at rest with data in motion
Deploy an easy-to-use business dashboard, driven by robust models published with a single-click
The ScoreFast™ platform helps foster widespread collaboration and insights adoption across organizations. Its comprehensive centralized model management with version control helps businesses decrease duplication, and easily diagnose and correct for model performance deterioration on a continuous basis.
"The ScoreFast™ platform, with intuitive business dashboards, fosters smart insights shared across numerous groups within any organization.  Comprehensive centralized model management with version control means less duplication, more collaboration, and simpler diagnosis as model performance evolves," said Vas Bhandarkar, CEO of ScoreData Corporation. "From the time the data is received to the time the model is deployed and updated, ScoreFast™ modeling and run-time services offer the lowest cost of ownership compared to models developed on open source platforms," explains Bhandarkar.
In a recent deployment for a media company serving hundreds of millions of consumers ScoreData Corporation delivered robust churn models for multiple prime-time programming slots that accurately predict churn over a subsequent multi-week period. With its live predictive dashboards, ScoreData is helping the company offer better programming alternatives to consumers yielding higher consumer stickiness, and with more accurate ratings predictions a better return on investment for advertisers. Using ScoreFast™ the value chain of predictive models to insights was realized with a several fold reduction not only in initial costs, but also substantially lower total cost of ownership.
"The testing and validation of the ScoreFast platform will allow our mutual customers and partners to greatly benefit from the capabilities of both the ScoreFast™ and HPE Vertica platforms," said Chris Selland, VP, Business Development, Big Data Platform at Hewlett Packard Enterprise. "We look forward to exploring how deeper value can be created through additional integrations between HPE Vertica and ScoreData."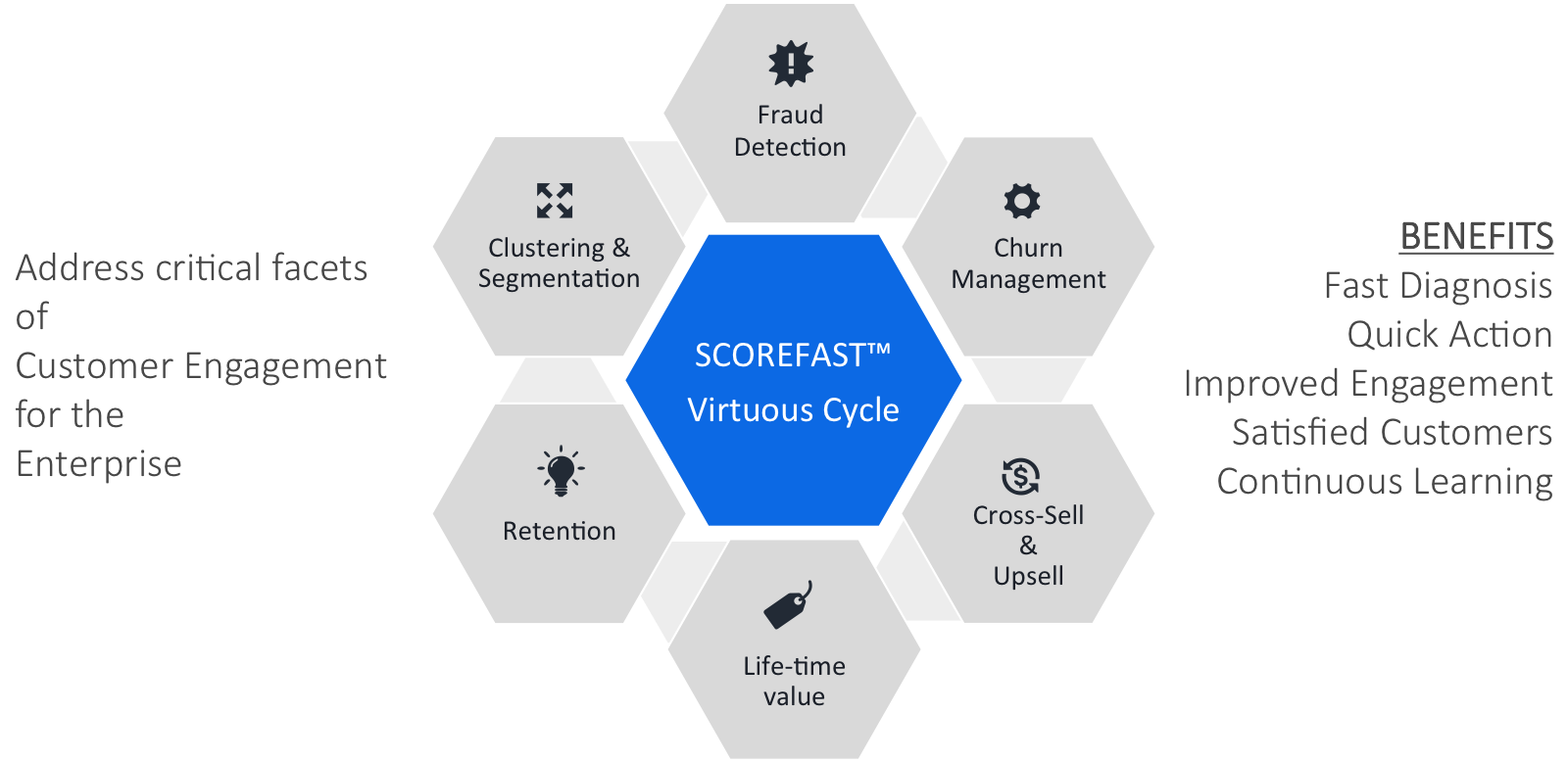 About ScoreData Corporation
ScoreData has developed a state of the art cloud-based Predictive Analytics Platform, ScoreFast™, leveraging its deep expertise in developing predictive solutions for consumer facing industries. Our data scientists and statisticians have built hundreds of unique models in production for Banking and Financial Services, Telecom, and Retail industries. ScoreFast™ helps bring new data models to market in record time, and fosters collaboration among your business managers and data scientists to build a broad range of enterprise applications.
Our self-learning models ensure that hitherto expensive model building and updates will happen automatically thus dramatically lowering total cost of ownership. You can build your business insights by leveraging legacy models with newer data or mix-and-match old models with older and newer data sets. Global enterprise clients have used ScoreData scorecards and models for myriad data-intensive business practices in the customer journey including segmentation, fraud detection, churn, cross-sell and retention.  ScoreData Corporation is a privately held company based in Palo Alto, CA.
Press Inquiries: info@scoredata.com